DETAIL
Deeply chicken potted fish ♪ Salad ~ Grilled meat until grilled "Girls 'Union · Adults' Gokon! Women's 100% Course"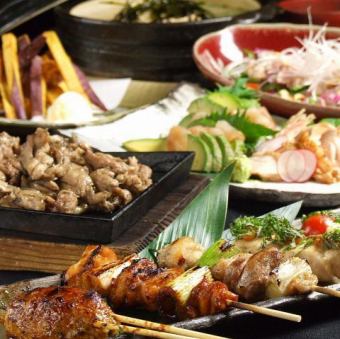 By using a coupon2000 yen
Reservation deadline

Visit of hope the day before until 17:00
Of course there are also popular menu for women such as avocado and shrimp salad, potato mentaiko cheese as well as grilled chicken and chicken broiled dishes! Deeply, it is a great course that you can taste chicken rice potted with plenty of umami.Perfect for 2,000 yen per person, perfect for gatherings that you want to enjoy at reasonable ♪ It is also recommended for launching girls' association · Gokon · seminars.※ You can put all you can drink for 2 hours at + 1,500 yen (tax included).
Course menu
Course contents (all 9 dishes)
◆ Vegetable stick
◆ Avocado and shrimp salad
◆ Yakitori 2 kinds
◆ Sweet Potato Stick Fly
Grilled roast chicken ◆
◆ Potato Mentaiko cheese
◆ Chicken rice pot
◆ dessert
◆ Drink menu 【course meal + 1500 yen】
· Beer (bottled beer)
· Shochu (Black Kirishima (potato) / Nikko (wheat) / Nikaido (wheat) / God's river (wheat) / Wheat / Cloud sea (buckwheat) / Koishi Tan (Shiso) / Kume rice (Awamori))
· Japanese sake (cooler / appreciated)
·plum wine
· Whiskey (horn bottle)
· Sour (lemon / plum / lime / yuzu / giant peak / grapefruit / calpis / litchi)
· Cocktail (Gin tonic / Moscone / Fazy noble / Cassis orange / Cis-soda / Cassis oolong / Peach oolong matcha oolong / Passoa orange / Campari orange / Malibu pine)
· Soft drink (oolong tea / cola / orange juice / grapefruit juice)
Coupon that can be used
【All you can drink】 30 minutes extension 500 yen coupon

Presentation conditions

At the time of booking

Conditions of use

2 people / over / lunch not available / course unavailable

Expiration date

Until the end of June, 2018
2018/06/12 update