Course details
Main dish is Grilled Baked! With Miscellaneous Supplement of the Next "In Standard"! Yakitori gathered course to eat "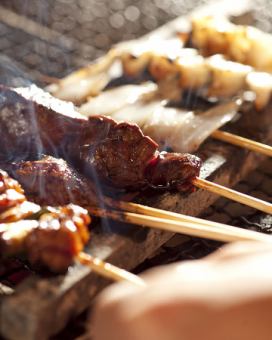 By using a coupon2000 yen
Reservation deadline

Until 17 o'clock the day before the desired store visit
Available days for reservation

Monday - Sunday - Public holidays - Holidays
It is a course of nine items with a popular menu.You can taste the charm of our shop freely, such as Yakitori 3 varieties, soup noodles etc, such as juicy savory charcoal grilled with juicy sauce charcoal and brilliant savory seafood.Corporate banquet · For banquets with mutually friendly friends, ♪ perfect for a variety of scenes ♪ Please use it for preview of the secretary as well.※ You can put all you can drink for 2 hours at + 1,500 yen (tax included).
Course menu
Course content (9 items in total)
Attached
◆ Spinach and Kyoseki salad
◆ Yakitori 3 species
◆ Sweet Potato Stick Fly
◆ Broiled roasted rice
◆ cooked dishes
◆ Dessert
◆ Drink menu 【course meal + 1500 yen】
· Beer (bottled beer)
· Shochu (Black Kirishima (potato) / Nicca (wheat) / Nikaido (wheat) / God's river (wheat) / Wheat / Unkai (buckwheat) / Koumi Tan (Shiso) / Kume Senbi (Awamori))
· Japanese sake (cooler / appreciated)
·Plum wine
· Whiskey (horn bottle)
· Sour (lemon / plum / lime / yuzu / giant peak / grapefruit / calpis / litchi)
· Cocktail (Gin tonic / Moscone / Fazy noble / Cassis orange / Cis-soda / Cassis oolong / Peach oolong matcha oolong / Passoa orange / Campari orange / Malibu pine)
· Soft drink (oolong tea / cola / orange juice / grapefruit juice)
2018/12/03 update