Course details
【All-you-can-drink all-you-can-eat】 Very satisfied with champagne's gem of gems "Great importance! Sugi no ya sellers gathered course"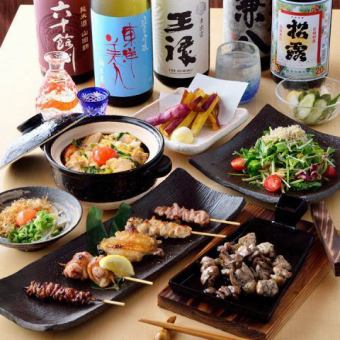 By using a coupon4500 yen
(tax included)
All-you-can-drink available

All you can drink as you can drink all-you-can-eat 120 minutes (LO 30 minutes ago)
Reservation deadline

Visit of hope the day before until 17:00
Available days for reservation

Monday - Sunday - Public holidays - Holidays
It is a total of 12 goods which are satisfactory, including grilled chicken broiler.You can taste the best of local chicken such as Tataaki of local chicken which can be tasted only because it is fresh, four kinds of yakitori baked thoroughly with charcoal fire.Sushi rolls of red eggs using rich "Ran king", content of fulfillment that incorporates crisp and juicy chicken wings to deep-fried.Please enjoy drinking and eating banquet together with all - you - can - drink ideas.
Course menu
Course contents (all 12 dishes)
Out per ◆
◆ Spinach and Kyoseki salad
◆ Yakitori 4 species
◆ of chicken seared
Grilled roast chicken ◆
◆ Sushi roll of red egg
Deep-fried chicken wings
◆ Baked rice balls
◆ dessert
* In general, meat raw meals are at risk of food poisoning.
※ For children, elderly people, people with weak resistance to food poisoning, please refrain from eating raw meat.
All-you-can-drink menu
·beer
- Bottled beer
- Zhuhai
· Lemon / plum / lime / yuzu / giant peak / grapefruit / Calpis / lychee
Bourbon
· Square bottle
·Cocktail
· Gin tonic / Moscommeureur / fuzzy navel / cassis orange / cassis soda / cassis oolong / peach oolong / green tea oolong / Passoa orange / Campari orange / Malibu pine
Shochu
· Kuro Kirishima (potato) / Nikko (wheat) / Nikaido (wheat) / God's river (wheat) / Wheat / Unkai (buckwheat) / Koumi (Shogo) / Kume rice (Awamori)
· Sake] <1 combined rice liquor>
· Cold Sake / Osakan
·Fruit wine
·plum wine
·Soft drink
Oolong tea / cola / orange juice / grapefruit juice
2018/06/12 update